Loan eStatements
Central Valley Community Bank now offers eStatements for your Personal and Business Loan Accounts. eStatements allows you to easily and safely access loan statements online without the hassle of receiving mailed paper statements and their storage.
eStatements from Central Valley Community Bank offers all of the following benefits, all free of a monthly service charge:*
Holds up to 18 months of statement history
Download, print & save statements to your personal computer
Receive email alerts when your statement is ready
Also streamline your loan payments through Personal and Business Online Banking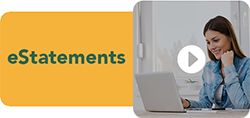 How to sign up for Loan eStatements

Existing Online Banking Users:
Business Online Banking Users: Sign up electronically inside the Business Online Banking system by clicking on the "Statements" link under the"Accounts" tab and follow the enrollment process.
Personal Online Banking Users: Sign up electronically by logging into your Personal Online Banking account, clicking on the Account tile under "Account Details," then click the "Online Statements" link.
Please note: After enrollment into Loan eStatements, allow up to one statement cycle for the change to take effect. Historical statements prior tp enrolment will not be accessible via Online Banking.

eStatements Only Users:

If you are not an Online Banking or Business Online Banking user and wish to sign up for eStatements only, please contact our Customer Service Department at (800) 298-1775. 
* eStatements require enrollment and a valid email address.